Everybody auditions. Every actor.
Steve Carrell's audition for 'Anchorman'.

Hugh Laurie's acting audition for 'House'.
This is one of my all time favorites.
One of my reasons is that, visually, it really looks like what the spaces for actual auditions for television roles really look like, and are like. It's just an actor and a casting person in a little room, sometimes teeny office.  Sometimes the casting director has lots of office stuff in that room, and there's barely enough room for the actor.
Another element about I love about this is that, as we all know, this little audition video was Hugh Laurie's actual audition for the part that we all are familiar with; and it's a very successful, long-running series. I am glad to have this here, because it shows all actors how simple the auditions are, even the winning ones.
What I love the most is how damn great he is at the part. It's so clear from the video.
And, he does no casting director interview. Gracefully, he blows it off.  I think that he does that, especially for this particular audition (and I have no idea if that is something he always did while at an audition appointment or not)–and this is total guess and fabrication on my part, perhaps because he is doing an American accent, and the switch may be difficult, a change-up, once they started doing the audition sides.
Mostly, though, I admire him for doing taking control of his audition and steering the entire meeting, away from the traditional two-segments,  directly to the actual auditioning for the part.  The reading (actually acting) of the material.
It appears that he is such a consummate actor: he was respecting and protecting his acting ability, and making a situation that would facilitate his giving the best audition that was possible for himself. It shows a lot of self-awareness, and self-respect. And respect for his artform.
He probably prepared his character outside the room, perhaps before that. He probably came into the room with his energy, his concentration, heavily into character.  It freed him from having to switch gears, and change "people", right there in the casting office, which is always difficult. By protecting himself from having to switch into it, he protected the amount of inner life and depth of 'being that character'; the concentration that he came in with. He's great at this part. He should play Dr House, I can't imagine anyone else doing so, or doing it better.
His taking care of himself and his own audition was great, because we all won as a result of his doing so. Admirably, and deservedly, so. Bravo, Mr .Laurie. Major props to you. And thanks for being so strong, you are a great example.
Johnny Depp Screentest–'Benny And Joon'
Not exactly an audition, this clip appears to be what's called a camera test. I am guessing that he already had the job; and this was prior to, or at the very beginning of the film shoot schedule. Often there will will camera tests for actors, that are really for the cinematographer and lighting techs. It's for them to try different lighting set-ups, to see how to best light the actor.
In the very first part of this video, it appears that the director and crew were testing how to shoot this particular Chaplin-esque stunt that Johnny Depp was doing, and it may have been on the same day that this particular scene was shot, as a tech rehearsal. Maybe, just before they shot the scene for the film.  Obviously, the shot was more of a close up, when they did shoot it. That way, they could leave the moving blankets where they are visible here, yet with a closer camera shot, the blankets would not be visible, to the audiences, on the movie screen.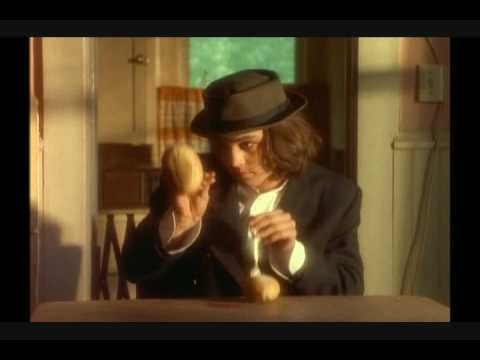 Ellen Page and Olivia Thilby for 'Juno'.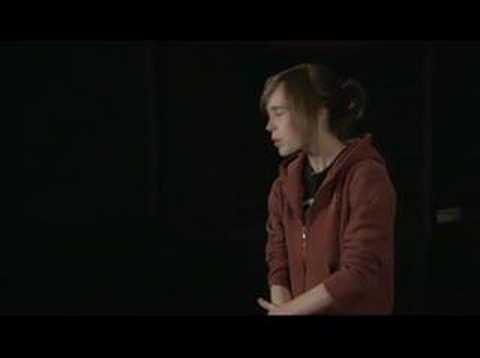 Ellen Page and Michael Cera audition for 'Juno'.
Russell Brand for 'Saving Sarah Marshall'.
Actors Sanaa Lathan and Omar Epps audition for 'Love And Basketball'.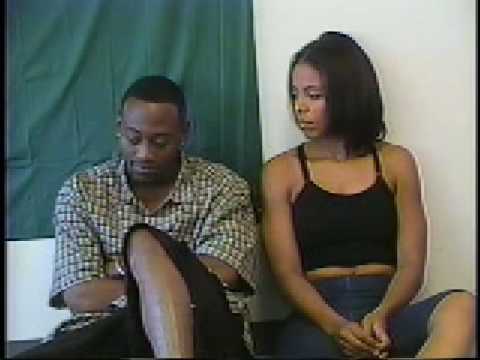 ::
::
Actress Emma Stone from 'Easy A' and cast as the new Spiderman's love interest. Here, she has a singing audition,  before she her acting career took off. Her audition is on a reality TV show, for a series called 'The New Partridge Family'.
Did the series ever make it to the air??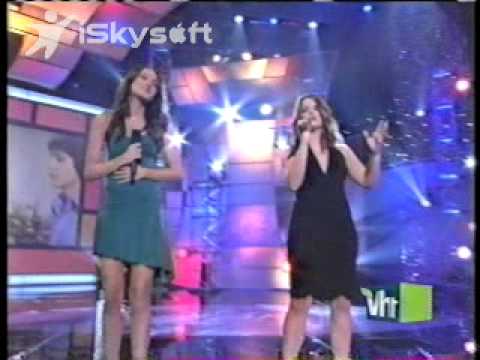 ::
::
Even successful actors have bad auditions.
Actor Chris Klein tried out for 'Mamma Mia', and, um…didn't get the part.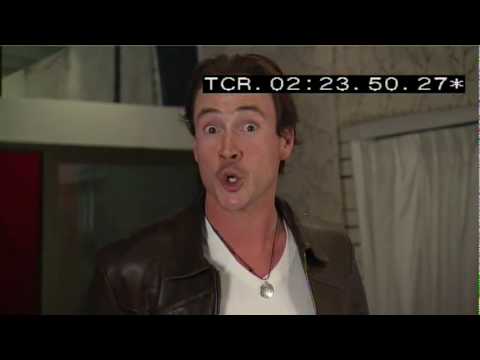 ::
Young Actor Robert DeNiro. His Screen Test for the role of Sonny, The Godfather.
He did not play this role. He played the young Godfather in Godfather II, the role which was played by Marlon Brando in Godfather I.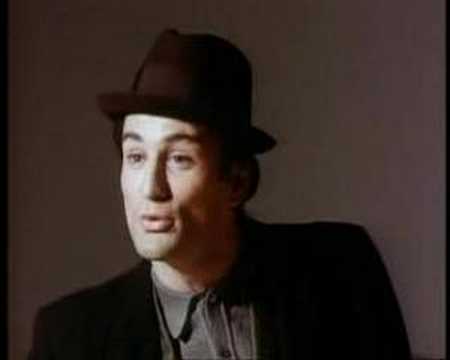 ::

::
Actors Al Pacino, Martin Sheen, Diane Keaton, audition for The Godfather. Director Francis Ford Coppolla and Actor James Caan do a commentary…

::
Actor James Caan auditions for role of Michael Corleone in The Godfather. Eventually, he played the role of Sonny. Al Pacino played this role, Michael Corleone, in the film.


::
::
::
::

Bruce Willis auditions for what would be his breakthrough acting role, Moonlighting.
The photos below were lost by my Webhost, Hostgator, on the server side… I will replace them soon…Thanks for a whole lotta trouble, Hostgator—(Only tip of iceberg.)

You can see that we both had different hair styles then. It's a good thing that we both re-styled, dontcha think?
These photos are from my personal collection, and all rights are reserved.                                                              ©Dana Kaminski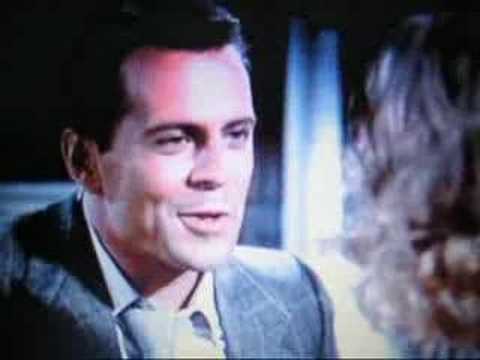 ::
Actress Emmy Rossum, in a singing audition for Phantom Of The Opera.
::
Jared Padalecki's acting audition is one of the only ones on this page, that looks just like what auditions actually, look like.
Sittin' in a chair, in a non-descript room. One actor who either makes the character and story come to life, or doesn't…With only his (or her) acting ability, as tools.
::
Sharon Stone gives an amazing audition for the leading role in the film, Basic Instinct.  You can hear director Paul Verhoven in the background. What's interesting about this, is that Sharon Stone was no stranger to acting in movies. She had many leads in films, prior. But they were called "B movies" and didn't make it to the "A level" movie theaters. Clearly, she was ready for the big time, as an actor. It is so clear here, on this screentest.
Yes, this was her breakout role.
::
For Superbad :: Actors Michael Cera and Jonah Hill, already cast, read with auditioning Christopher Mintz for the role of McLovin.


Christopher Reeves, an unknown actor, auditions for the lead of a major movie, to play an American icon.  Sometimes a "perfect fit" in casting is just a perfect cast.
::
::
This is interesting, because Christopher Reeves is reading with all the actresses auditioning for the role of Lois Lane. Their auditions vary from each other, a lot.
::
A little Lindsay Lohan, auditioning for The Parent Trap.
::
John Belushi's audition for Saturday Night Live. Since he was an original cast member, his audition pre-dates any script for the show, or air-date.
::
Seth Rogen, looking quite young, auditioning for the television show Freaks And Geeks.
::
Michael Cera auditioning for the part of Evan, in Superbad.
::
Rachel McAdams auditioning for The Notebook, with Ryan Gosling reading his lead acting role, off-camera.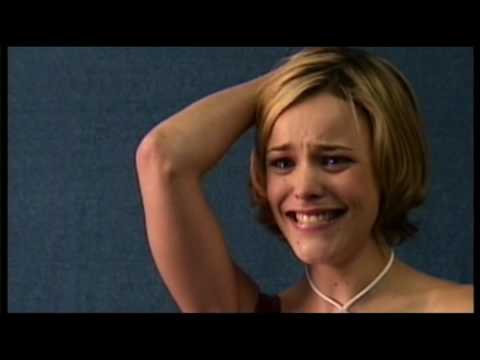 ::
Dustin Hoffman auditioning for Tootsie.
Note how he came in costume, even with glasses! Different than the memorably-awful ones he wore, acting in the film.
::
Actor Kristen Bell.
This audition video made me sit up and give respect.
—————————[Strong language warning, not G-rated audition.]
::
Miley Cyrus at her acting audition for Hannah Montana.
::
Two very early Julia Roberts auditions, two separate acting scenes, for the same role.
::
::
More to come…
Share and Inspire Others: Twitter | StumbleUpon | Facebook | reddit | buzz | eMail