On February 29th, 2012 Davy Jones Who Was The Lead Singer Of The Monkees, Died.
Starting as an actor, Davy Jones was from Manchester, England; he quickly became a 'heart throb' when cast as a Monkee,one of the most beloved teen idols in history.
'The Monkees' was a television show whose concept came before casting. The concept of what the show became was really the star, at first. It was before music videos, and long before new media.
Davy Jones Early Life Seemed Fated For An Acting Career; Fated For Fame
At 11, Davy Jones landed a real role on the British soap called 'Coronation Street'. A year later, in 1962, he appeared in a BBC series 'Z-Cars', a TV drama about police.
At 14, Jones left acting and put all of his efforts into training to become a horse jockey, it was a career that he decided he was going to pursue through his adult life.
That was until a London theater came to the jockey world, looking there for potentials, to cast some young boy roles in 'Oliver'. Jones was recommended, and after auditioning was cast in the role of The Artful Dodger. To great acclaim.
When the show came over to Broadway from the West End of London, Davy Jones came with it. He was nominated for a Tony Award that year.
In 1964, Jones made an appearance on live television, The Ed Sullivan Show, along with a lead actress from Oliver, named Georgia Brown. This was a show that would go down in history, because it was also the show where The Beatles made their first US television appearance.
Jones is quoted as saying about it:
I watched The Beatles from the side of the stage, I saw the girls going crazy, and I said to myself, this is it. I want a piece of that.
The Sullivan Show appearance got Davy Jones noticed by Screen Gems, and he was signed to an acting contract; this branched him out into television acting here, with guest star roles on high rated shows such as 'Ben Casey', 'The Farmer's Daughter'.  At 19, he began making music records too, with an initial album entitled 'David Jones'.
In 1965, when 'The Monkees' was about to begin casting, Davy Jones's name came to the casting directors on a short list of potential leading stars for the series.
Here's his audition for The Monkees.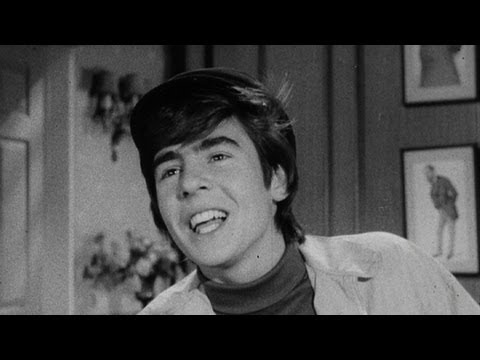 Best,
Dana
Pass on to others, share please.
Related Reading:
Share and Inspire Others: Twitter | StumbleUpon | Facebook | reddit | buzz | eMail