In His First Film, Orson Welles Lead Actor Wasn't Afraid
Not intimidated by size of the role, nor that his character's name was in the title. Nor by the high-level reputation of A-List director, Richard Linklater.
He wasn't intimidated to play an American legend, known for being larger-than-life.
Nor was he afraid of playing a real-life character, altogether.
He wasn't void of fear due to an actor's runaway ego.
Truth Is, This Actor Was Very Prepared.
From the outset, it all looks like sheer luck.
Fate did play a role, in the timing.  In that, stage actor and RADA grad, Christian McKay was doing a one-man show at the same time that the director, Richard Linklater, was looking for someone to play the role of Orson Welles; the same real-life person that McKay's one-man show was about.
Watch him talk about being a novice film actor, and his lack of intimidation about it, in my video below. He reveals some of the actor prep he had done for this role, long before he ever heard of Me And Orson Welles.  Long before he ever met Richard Linklater.
On another Hollywood Actor Prep video, he talks about how he got the movie role. This video, here,  is really all about his lack of stagefright.
It also reveals something about the film's director, Richard Linklater; and his own sense of confidence about his work.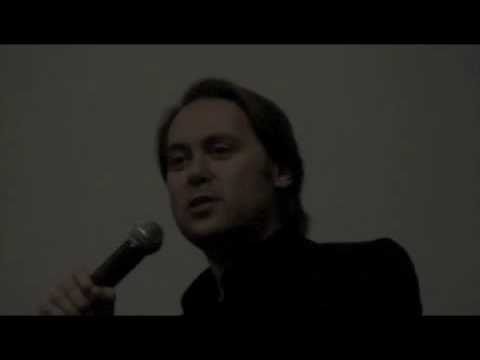 Backstory: McKay's Path To Playing Welles, On Film
Still, his sense of affinity with Welles remains with him. "I play him my way, I feel very close to him," McKay says. He leans forward and smiles: "You can't play the role without real belief in it." Twinkling self-confidence indeed.

When he was an acting student at Rada, a teacher told Christian McKay that he wouldn't find steady work until he was 50.

As it turned out, McKay beat that prediction by 15 years. In his debut film, Richard Linklater's Me and Orson Welles, he plays the visionary actor-director of the title, sharing top billing with High School Musical heart-throb Zac Efron. His performance has elicited rave reviews from critics and he looks set to lift any number of Best Newcomer awards.

In the film, set in 1937 New York, Efron plays a fictional teenage student, Richard Samuels, who talks his way into a minor role in Welles's landmark Mercury Theatre production of Julius Caesar. (At the time, Welles was all of 22.) The star-struck Richard makes his stage debut, falls for an older woman in the Mercury company (Claire Danes) and experiences the dazzling, beguiling Welles's dark side.




McKay landed the role via a circuitous route. He had been portraying Welles in a one-man show, Rosebud, named after the key word in Citizen Kane. It played to sell-out audiences at the Edinburgh Festival in 2004; he still recalls fondly the Telegraph 's review by Alastair Sooke, who called it "a stellar production" and raved about McKay's "twinkling self-confidence".




"I always wanted to be an independent maverick, writing plays and putting them on myself," he tells me. "The one-man show was set up so I could earn a living from it while I pursued other things."

But then the show's writer and director relinquished the rights to Rosebud and McKay fell out bitterly with its producers, who wanted to dump him, take it Stateside and, as he puts it, "cast a fat American in the role". He was living in Tunbridge Wells, considering his future gloomily and sitting in a pub called The Orson Welles (no, he's not making it up) when the producers called and asked if he would return to the role.

"I said yes, on one condition," he recalls. "I said, 'You give up the rights and I'll set up a little company and produce it myself.' " He thinks they imagined he would continue taking Rosebud round small British provincial venues. But that's not how it turned out.

First his wife, actress Emily Allen (who plays Orson's wife Virginia in the film) set up their production company, Atomic 80. "That sounded so hip to me, not being very hip myself," McKay confesses. "But as she pointed out, 80 is the atomic number for Mercury, the name of Welles's company."

When he was asked to accompany the Theatre Clwyd stage company to a "Brits on Broadway" mini-festival in New York, McKay seized the opportunity to present Rosebud for 16 nights in a tiny off-off-Broadway theatre.

Word of mouth was phenomenal and Linklater, who had written the script of Me and Orson Welles, flew from Texas just to see McKay. He offered him the film role, resisting pleas from backers to cast a big‑name actor.
Photographs by Liam Daniel © Freestyle Releasing
Best, Dana
Please do pay this forward by sharing it with someone else. Thank you, karmically.
Related Reading:
Share and Inspire Others: Twitter | StumbleUpon | Facebook | reddit | buzz | eMail