Just After I Saw DeNiro In 'Everybody's Fine'; Outside The Theater, I Met Michael Cera
He was standing very close by, when I looked up from digging through my bag with cameras etc, to find my Film Fest Schedule. Figure out what's next. Felt a little ready to not watch another film. Was ready for some human conversation, after days of watching film-after-film.
Surprisingly, the  10 PM showing was 'Youth In Revolt', the new Michael Cera movie; the one you've probably heard about because Michael Cera plays two different characters in it.  When I picked my head up I saw him, unexpectedly, standing right nearby.
Our conversation isn't on tape, but basically it was a reviving breath of fresh air. Ahh. The decency of mankind…most of it.  And, of course, the decency of artists. I have always found that artistic people, truly artistic ones, are usually very down-to-earth and treat other people decently. I told him about Hollywood Actor Prep, and what it's all about.  He seemed to be open to it, and promised to look it up. I gave him my card.
Just following that, was when this gathering happened. The publicist had scheduled the cast of actors, and 'above-the-line' people, outside for a photo shoot. When all were present, she briefed them, about how the live introduction would go, after they all got into the theater. 'Youth In Revolt' was about to be screened.
Each Movie Has A Publicist, So Has 'Youth In Revolt'
So what you hear and see is the little bit of publicity that occurred before that screening.  You can also see Michael Cera looking over at my camera. Was he wondering why the heck I was not inside already to watch his work? Especially because I had told him all about this website, and interest in actors and acting, all high-level blah-blah?  If I was so into acting then why was I standing outside taking pictures? Sheesh, I hope he doesn't think that I am paparazzi.
(Yes, I do know that he probably wasn't thinking any of that. )…(Maybe.)
I just hope that when he rifles through his pockets and finds the card for Hollywood Actor Prep,  he remembers to look it up online. I hope he wants to do an interview, or be involved in some way. Which is what I told him.
He didn't realize, most likely, that I had learned that it was easier to get in the films at this festival if you weren't press. If you were press, you had to let them reject allowing you in, first, then realize that they didn't have enough public that showed up,  to fill the free seats, at which point they begged you to come in and sit in an even better seat, down front, than they would have given even if allowed to attend. I had, luckily,  been given prior access to the DeNiro screening. But, because I hadn't seen this movie on the schedule I was given, way before the Fest began, when press got to request, I didn't have prior approval of access.
To try to gain access that hadn't granted prior, well, watch out. I met more Gatekeeper-Magna-'Tude, of the highest during those few days, than I had in years. And, Gatekeeper-'Tude is the worst kind.
Still, Michael Cera Playing Two Different Characters?  Zing! Go My Chimes…
Even though I was already burnt out, I would've been happily in between the rows of 6 to 16, center, if I knew it was going to be this particular movie. I would have loved to watch this new Michael Cera film. This new acting dual-character-play is right up my alley. Extremely jazzed am I, about seeing it.  Heavy props to Michael Cera, as well; for tackling such a wonderfully fun, yet difficult acting challenge. (The best kind, hm?)
So.
I'm sorry, Michael Cera, if you do get to see my blog and it happens to be today. I apologize for not going in and watching your hard work, your lovely work, on the screen; after this PR bit occurred outside. I will see it, you can bet. And I will talk about your acting, and your playing "Francois" (the break-a-way, alter-ego) then.   Count on it. Actor-to-actor.
And as an actor, you probably will understand this next part very well: there is only so much Hollywood 'tude that I can take. I have a line. At the time we met,  I had been at this Fest for a few days, and, I was already over that line.
Graumann's Chinese Theater…Movie Photo Shoot…
Anyway, for all the actors, and others, who have not been around anything like the publicist's prep, I thought you may find this video interesting. A slice of life. Movie-actor-life.
It's also at a location that most identifies Hollywood. Hell, the best thing about this particular festival was that it was at Graumann's Chinese Theater, right smack in Hollywood. Isn't that the most famous movie theater in the world? Watch for those footprints in the cement, which I filmed a little at the end of the tape.  The cement where we are all standing on. Adjacent to the cement where all those costumed characters walk…You can also hear some foreign languages on the video. Even at night, tourists are there to see the theater.  They weren't aware of the film fest, or even Michael Cera. (Nor the actress standing next to him, Portia Doubleday. She's his love-interest in 'Youth In Revolt'.)
It's also where the 'Hollywood Walk of Fame' is. That's where I took a photo of Michael Jackson's star for y'all.
This woman is dressed as a Disney character, Belle. Please give her a tip, if you see her. I didn't, and I still have  guilt.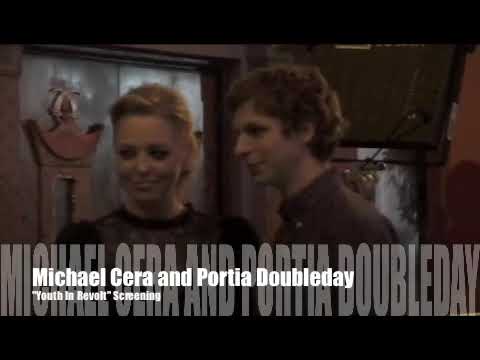 There was another actor in the video, did you recognize M.Emmett Walsh? He plays the female lead's father, and has acted in many other films, and television shows. You can hear the publicist telling him to go inside and sit in "row 14″.  She was basically telling him that he wasn't going to stand at the podium for the introduction. That he should go inside, and take a seat, before she took the others inside to make an appearance.
And, upon second view, I now think that Michael Cera was looking over at my camera, just to be kind. Participating.
Thanks, Michael.
And thanks for being an actor, and so very open and responsive, about this actor website.
Best,
:~Dana
The only fee for this post is to share it with at least one other person. Thank you for helping to connect all actors, and supporting…
Related Reading:
Share and Inspire Others: Twitter | StumbleUpon | Facebook | reddit | buzz | eMail